Beware of Mummies in The Sims 3 World Adventures
In The Sims 3 World Adventures, you can accept challenges, find treasures, discover what's lurking in hidden caves, tombs and more with the first ever adventure gameplay. While venturing to Egypt, one of three real-world inspired locations you can journey to, watch out for any sarcophagus in the tombs that may have an angry mummy just waiting to put a curse on you. Unless you are a master of the martial arts skill, the mummy will win in a fight and you'll either be knocked out or cursed. When cursed, you can go to the Sphinx and plead before it in an attempt to find the soul peace statue, which removes the curse. If not, so long Sim!


What's better than being chased by a mummy? Spend the night in a cursed sarcophagus and find out what it's like to be a mummy! You will live longer, your energy and bladder motives won't decay which means no bathroom breaks or sleeping. You'll be strong, have unique mummy socials, have a longer lifespan, and more. But note, you'll move more slowly and be prone to catching on fire more easily. But that's ok, because you'd then be able to come back as a ghost mummy. Cool.
The Sims 3 World Adventures expansion pack will ship on November 17, 2009 for the PC and MAC. (Europe 19 November)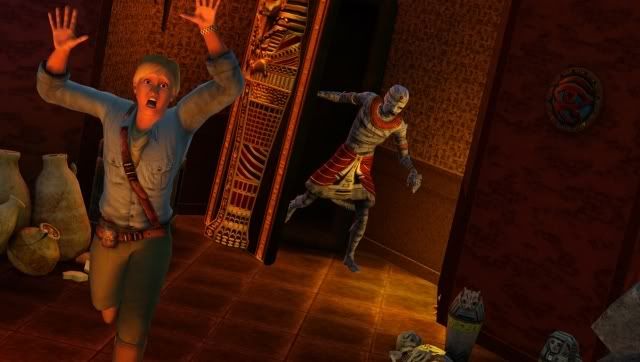 Next week we'll give you a lesson in building your own Tombs from simple to complex then we're off to China.
Thank you Nefje for the new screen!