There was a sneak preview yesterday, and dms2c.com was invited.
We saw a lot and had a chance to ask questions.
Do notice that we saw a demo version of the game, so things can still change before the game hits the stores on February 20th 😉
Sims 3 producer Benjamin Bell told us new things and showed us the demo.
Neighborhood and gameplay
The game begins in a neighborhood called Sunset Valley, this neighborhood is is designed to be the past of Pleasant ville and even the neighborhood we had in the Sims 1.
You'll encounter a young Mortimer Goth and his parents, there will be other famous sims, but Ben didn't tell us about them.
When the neighborhood is loaded you'll see lot's of different icons.
You can see the work locations, public locations en the house you sims live in.
When you go to your sim you won't see any loading screens.
The demo started with a sim working out in the gym, right after that Ben showed the park and not a loading screen was seen!
When you give your sims social actions you'll see a picture of the other sim in the left corner, that picture will tell you what kind of relationship there is between the 2 sims, what the other sim thinks of your actions, you can also see the traits and the job the other sim has.
A sims character is formed by their traits, i'll tell you more about traits in the CAS section.
Every trait has it's own social action, when your sims has an inappropriate trait your sim can nag about other sims or make fun of them, and you can see what the other sim thinks of that.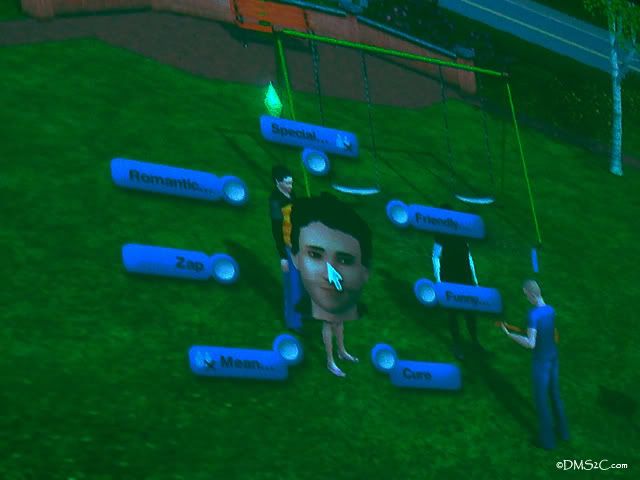 Every sim you know will be in the town, or you can visit them at their home.
There are also townies and NPC's who don't live in the town.
Everyone in that town will evolve, this also counts for your other made sims!
You can play with more then 1 family in the game, but when you don't play with them, the game takes control of them and there is nothing you can do about it.
It's still not clear if this will be solved before the games will be in stores, but you can make multiple copies of Sunset Valley.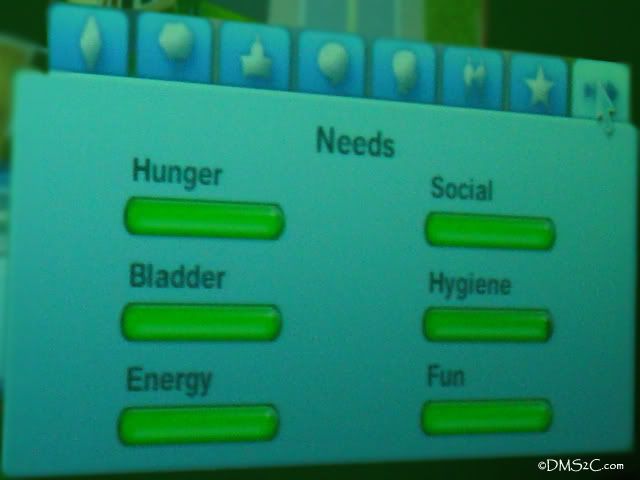 There are still needs in the game, but you don't have to focus on them as much as in sims 2. The game is more focused on the way they live their lives instead of having to eat and going to sleep.
Sims are smarter so you don't need to tell them to eat or anything they can take care of themselves for that part.
Wants and fears are still in the game but in a different way.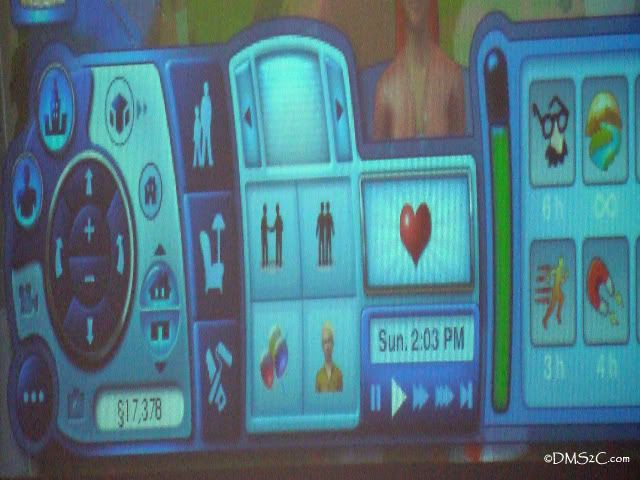 Depending on the chosen traits you'll sim have moodlets as well as wants and fears, you can decide if you want to grant a wish, you can simply punt them in a screen below and for fill them
Moodlets give a temporary boost to your sims mood, this can be positive or negative, everything you do will change the mood meter.
If you have a sim that likes to be out doors, their mood will be better if their in the park then when they're at home.
Some moodlets work for a couple of hours you can see below the moodlet how long it will last.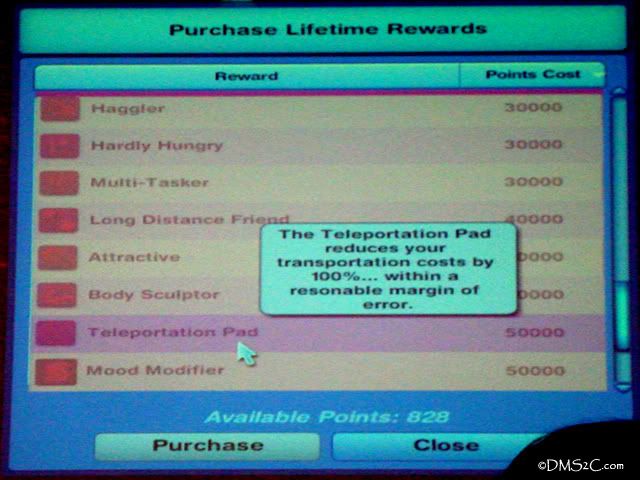 The lifetime points are back again and you can trade them in for more traits and great new options like don't pay when you have dinner at a restaurant or you can give your sim a midlife crisis.
Your sims can move around the town in 4 different ways, they'll walk when their destination is within walking distance or they'll take a cab, take their bicycle or car. (I asked Ben if Bicycle's could get stolen and he said no, same thing counted for the cars)
There are different community lots like cemeteries, a swimming pool, beach, restaurant, cafes and shops.
There is also a hospital where sims women can give birth, it also counts as a working place for the medical career.
Kids and teenagers can make their homework on computers or they can study at the library.
Ceilings are also in the game and their made automatically.
Unfortunately there is no weather in Sunset Valley, the sun will always shine.
And your sims already have an inventory!
There is also something new in it: opportunities, every day your sim will get a new opportunity for social, skills and career, what these opportunities exactly are is also a secret for us.
If you have messy sims you don't have to let them clean up, you can simply click on a plate and put it into the dishwasher and take the trash to the trashcan.
The game will only have Sunset Valley, but there will be new neighborhoods for you to download when the game is in stores.
We don't know if you can make your own neighborhoods, that was unknown, but you can almost redesign the whole neighborhood except the roads.
Careers
There are a lot of different careers in the game, you can get them in 3 ways.
You can simply click on a building in the neighborhood view, or you can do it they old way with the news paper or computer.
You see your sim going to work, but not actually seeing them at work.
You can decide how hard you sim will work and there are also some tasks you need to do to get promoted.
For example, if your sim has a career in politics he or she will need to raise funds for a campaign, or when your sim has a job in science they'll need to catch a special fish to experiment on.
There are several new options and perks to get from work.
When you've reached the top level of your career you'll get something as well, Ben showed us the perk you get when you reached the top of the science career, it's a machine that allows your sim to experiment on objects, these experiments can go good or bad.
Different ages
Of course there are still different ages in the game, but the main age is now the young adult age.
Sims will grow up by a cake.
A thing that has changed is that when you don't take good care of your kids they will ged bad traits, if you raise them good you'll get to chose the traits yourself.
Sims can also die in different way, but that was kept secret to us.
Freaks are back in the game as well, but again no information about it.
Buy and build mode
You can now rotate objects 360 degrees without using any cheats!
Objects can have any color you want them to be!
You can recolor objects with a new tool: Create a Style.
With this tool you can give a new texture or color, windows, doors, walls even cars and objects.
In the movie below you can see how easy it is to recolor something.
The buy menu has 2 different looks, you can either pick on room or on function (sims 2 style)
You can also place objects on different places of a table, so no longer left, middle or right.
The building menu wasn't complete yet.
But we did see a cool new feature.
If you want to make your room smaller or larger there is a new tool that will move the current wall, with all the objects like paintings and lamps still on it!
Create-a-Sim
Bodyshop is given a great nu upgrade!
From now on you can really change everything about your sim.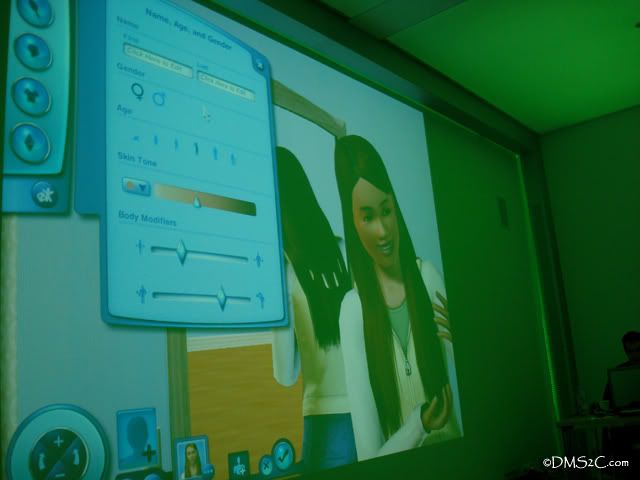 The 1st screen will show you the name, gender, sex and body type of your sim.
In sims 2 you could select from 3 body types, but now the combinations are endless, you can make them as thick or as thin as you like, with more or less muscles.
And that's only the body type, you can fine tune everything on a sims body.
There are some pre-selected forms you can chose from but after that you can still adjust it.
You can also get any colored eyes you want just select an eye color and with a bar you can make the eyes darker or lighter.
You no longer need to download clothes just because you like that color, if you want a red shirt you can make a red shirt with that outfit!
You can also change the texture of that clothing style.
You can give everything a new color, shirts, dresses, and even shoes.
You just simply click on the thing you want to change and with the create a style tool you can change it.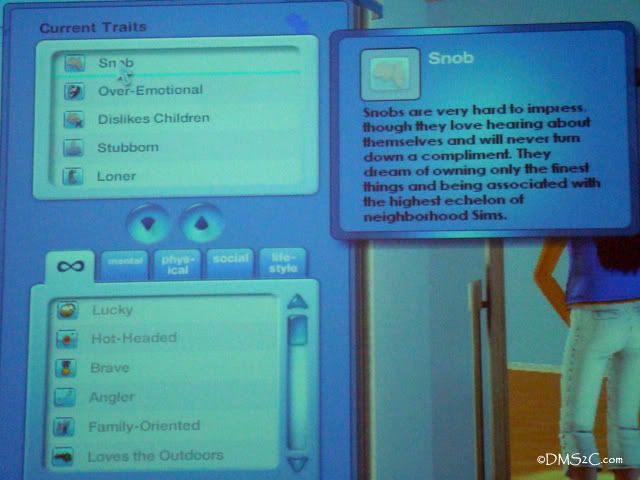 Personality:
There are over more then 70 different traits in the game, which decide the personality your sim gets.
You can combine a lot of crazy things, you can either chose for 1 trait or for 5.
Once you've selected the traits you'll be given an option to chose from 5 lifetime wants.
There are 30 lifetime wants in the game, and you get to chose it as well.
You also decide what kind of hobby they have, and their favorite food and color.
If your sim eats their favorite food their mood will approve.
There are no zodiac signs, but through the traits you can give them any personality you want.
There is also an option to change your sim's voice.
Sims3.com en launcher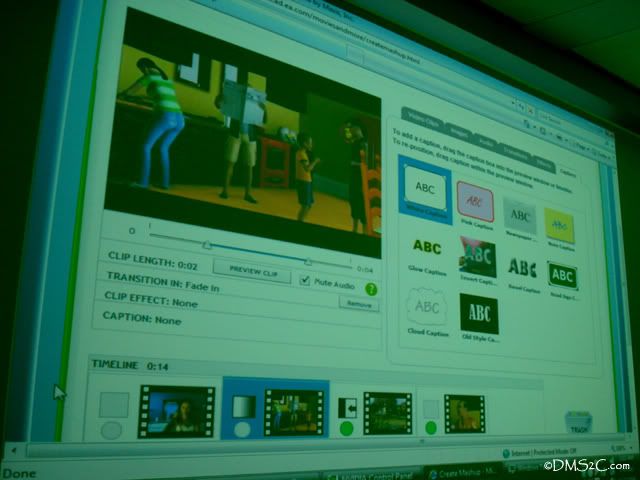 The sims3.com will also get an update, everything you make in the game, you can upload to the sims3.com.
You will also be able to make movies through the website, it looks like the mash-up system from sims on stage, but then with your own movies.
The launcher also has new features.
You can see all your downloads, and you can delete your downloads with the launcher.
You can also upload your creations with the launcher.
Of course you don't need the internet to play the game.
Everything you make will be saved as a .package file, you can upload them to the sims3.com but you can also place them on your website.
Conclusion Mogway
Sims 3 is really better if you compare it to sims 2. No more loading screens and the endless options to make sims or recolor objects is really amazing.
The game already looks great even though we saw a demo version of it.
It will be different for players who are used to really managing their sims to for fill their needs, but the other options make the game so much more fun.
You'll play the game more instead of being busy getting your sim's needs up.
Conclusion DeKDeS
DeKDeS's sims creator point of view.
They said you can change everything
Well they did not lie about that fact.
The new Create a Style feature is simply wonderful, you can mix textures and colors almost endlessly.
You simply select a texture, and then you choose a color with a smart color selecting circle, or for the more accurate color approach,
you can fill in the RGB values or the HEX value of a color.
So imagine you have seen some pictures of real clothing somewhere on the internet, and you want to have an almost exact same color,
Then you could simple use a program such as photoshop to select the color with the color sampling tool, and just use that HEX color value inside the sims 3 game.
The Create Style interface can be used on almost everything in the game, and the style combination you make with it can be saved as a personal style and used all over again on other object.
The create a sim will take the breath away for those who enjoy making sim characters.
I had heard about it that you could adjust a lot more then in the sims 2.
Well… lets say this create a sim will make you go " Oh my God! "
You can adjust everything in the smallest detail, more sliders then in the sims 2 create a sim.
it will simply blow your mind away!
Ben Bell made a sim character of Obama that looked like Obama himself stepped into the game.
Also the building feature has a great new option, you can drag walls to scale them back and forth, you can place little details such as plants on different location on an object such as an table.
Oh and a ceiling is build automatically.
There is just too much that blown my mind away to describe the power of creative freedom in this new sims game.
I just wanted to say, that people who only create might think: Does this mean we cannot create custom content?
Well, not like we have done this before, the objects in game can be painted in a lot of styles.
But you can make a lot of styles and share those.
Also there will be a tool released to create your own textures to use with the create a style interface.
well final conclusion?
Sims 3 will be awesome, even for creators!
We would like to thank Benjamin Bell and EA for this great day and opportunity.