Dutch version
A big thank you to Starrats from Lucky Sims 2 for letting us use her pictures!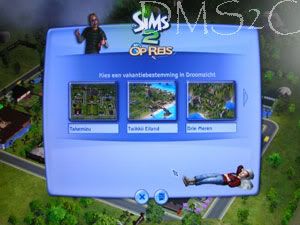 Last Thursday DMS2C was invited to EA headquarters here in the Netherlands to attend at a special Bon Voyage preview.
When we arrived at EA it was already clear that this expansion is about traveling, the EA office had a nice vacation spirit vibe.
There were 6 pc's with the sims 2 and Bon Voyage installed so we got to play the game already.
Unfortunately we don't know how Bon Voyage will play with all the other expansions, but that's something we all get to test when the game comes out.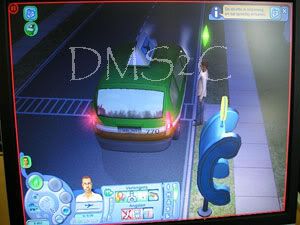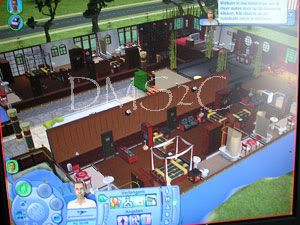 With this expansion they really focused on small details, the 3 vacation destinations are really different from each other, all with their own objects, cultural things and food! Also each destination has it's own unique NPC's and hidden npc.
Your sims can choose to stay at a very expensive hotel, or a cheaper one or even buy a vacation home!
Unfortunately toddlers, babies and pets have to stay home for the holiday. But if your sims really need a break from everyday life they can let an adult or elder family member at home to look out for the kids and pets or you can hire a nanny that will stay with your kids and pets.
Just make sure your family has enough simoleons because a nanny and the vacation could be very expensive.
If your sims miss their family members and pets who staid behind to much, they can leave the destination before the holiday ends.
Luckily your sims boss won't give you trouble if your sims need a break, you don't even have to give up any free days!
When your sims get home everything there is like they left it, so it seems that your sims never have gone on a holiday, well except for the sims who went because they can have new skills and new memories about the holiday.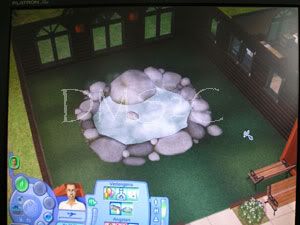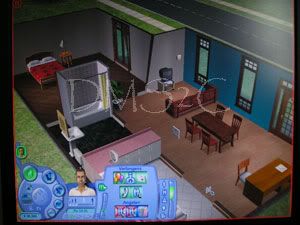 There is not much new clothing in this expansion, but a lot of new objects. The holiday neighborhood is a sub-neighborhood. And sims wouldn't be sims if you couldn't make your own holiday destination. There is no winter holiday in the game, but if you have the Seasons expansion you can make that for yourself.
Sims can do lot's of different activities during their holiday, like going on excursion, walk around in one of the gardens or go to the beach.
They can do this by taking a taxi or they could just walk to the next lot.
Your sim also let's you know if they like the holiday or not, and the more fun they have the more benefit can be taken from it when they get home.
By doing different things on each location your sim will learn more things and get more different holiday memories, some memories unlock things in the game.
Of course there are also new wants and fears all related to the holiday experience.
Your sims will be very grateful when they're holiday is over, and it's really worth it!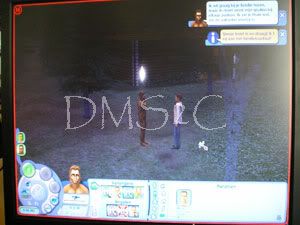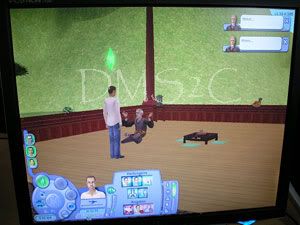 We still have to wait for this new expansion to come out, it's set for 5 September in America and 6 September for Europe.
Although we were very lucky to play this game, we still haven't explored everything, this is a very large expansion with lot's of different things to do.
I guess our preview doesn't bring that many new things, but that has a reason, we've been asked not to spill to much new details about this game, so you guys still can find out stuff when you buy it.
I believe that even if we told you guys everything we know right now, we would all still have enough to explore in this new expansion!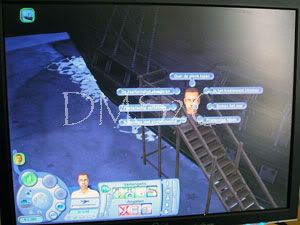 Conclusion:
This new expansion pack is really going to be great, EA has done it again, most people who didn't like the original version will have lot's of fun with this new expansion pack! Let the holiday's begin!
We would like to thank EA for giving us the opportunity to play this new expansion, and also for the great day we had!
—————————
Het chat transcript van afgelopen donderdag is door mij vertaald en kun je hier vinden